The Script Anvil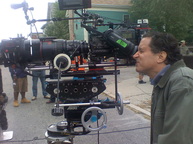 The
Script Anvil
is the creative collaborative workshop started by Duncan Putney to help finish off all of those great screenwriting ideas that never get completed. The Script Anvil is where talented screenwriters are invited to work together on original stories to forge screenplays for a wide variety of media. Hammering out commercially viable screenplays against an anvil of support, tempered with constructive feedback, and quenched in copious amounts of coffee. Writers are brought on to projects where their unique skill sets and life experiences add texture and depth to the story, and contribute to an originality that overcomes formula and predictability. The Script Anvil is not a factory where scripts are mass produced, but rather it is an artist's studio where screenplays are individually crafted and shaped with care and attention.
The Writers: Hammering away with Duncan in our forge are
Currently looking for a female co-writer on a feature thriller THE CHEATING VACCINE
Alison Mosier Sheff (writer/actor/director) co-writer for WOLFEBORO
Dean Huh (writer/producer) story originator and co-writer for LOOKING FOR LEONARDO
Kevin Faria (writer/historian) story originator and co-writer for OLD HOSS
Eric Lutes (actor/artist) co-creator for developing for STILL LIFE
Tim Norton (writer/college professor/blogger) co-writer for BAREHANDED CHAMPIONS
Douglas Putney (writer/military consultant) co-story creator on SHOOTOUT, a consultant on BIRD ON ICE, and
contributing writer on a spec script for a BBC episodic.
Gare Trahan (actor/writer/columnist) co-writer for WAKING UP DEAD
Finished Scripts:
BAREHANDED CHAMPIONS (documentary) by Duncan Putney & Tim Norton
The true story of the real first World Series Champions, the Providence Grays of the National League who played professional baseball with bare hands and recorded a long list of baseball firsts such as the most winning games by a single pitcher, the first Hispanic in the National League, the first African American to play professional baseball, the first unassisted triple play, and many more.
OPTIONED by
Original Concept & Development AssociatesBIRD ON ICE
(
Action / Adventure / Thriller
) A team of aviation historians discovers a mystery from the Second World War two hundred feet deep inside a Greenland glacier; a discovery that interests both the US Military and some modern terrorists. (
Based on actual historical events
.)
LOOKING FOR LEONARDO (Family Drama) Story by Dean Huh and co-written by Dean Huh and Duncan Putney. A widowed man attempts to reconnect with his young son when the boy talks him into a Christmas holiday trip to Italy to find Leonard DaVinci's last living descendant.
OLD HOSS
(
historical fiction
) story by Kevin Faria and co-written by
Kevin Faria
and
Duncan Putney
The dramatic story of baseball pitcher Paul "Old Hoss" Radbourn of the Providence Grays and his record breaking Hall of Fame season of 1884 as he overcame his personal demons to lead his team to win the National League pennant and the first Championship of the World.
FINALIST (
2nd Place
): SPOTLIGHT ON RHODE ISLAND screenwriting competition sponsored by the Rhode Island State Office of Film and Television.
Works In The Forge:THE CHEATING VACCINE
(
SciFi / Detective Thriller
) Good news, science has found a cure for the cheating spouse, but there's just one small side effect. (
Based on actual science.
)
PERSPECTIVE
(
Horror / Thriller
) A group of college photography students capture images of something from beyond the grave.
SHOOTOUT
(
Modern Western
) Four cowboy enthusiasts on vacation in an RV find themselves in need of the law in a small town where there is none.
SHOP KIDS
(
Horror / Thriller
) A group of high school kids is learning the wrong kind of civics lessons and putting those lessons into action.
THE PIT (Horror / Mystery) An over the hill television reporter is sent to the Andes to do a follow up report on the successful rescue of 33 miners. He discovers that the real question is just who or what actually came out of that pit ten years earlier?
WAKING UP DEAD
(
Comedy Short
) A young man dies in his sleep but doesn't realize it until he after he gets to work the next morning. So, with the help of his best friend/co-worker he tries to find a way to undo his deadness before his girlfriend finds out.
WOLFEBORO
(Modern Horror/Thriller) A colonial era force returns to the summer resort of Wolfeboro, NH, forcing the local fish & game officer to track down this ancient killer of both local livestock and people.
---