ORIGINAL CONCEPT & DEVELOPMENT ASSOCIATES, LLC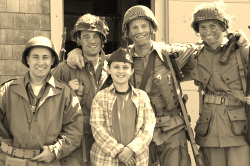 OCD Associates
was formed by producer
Andre Stark
and writer
Duncan Putney
in 2009 in order to pursue the development and production of their own ideas and projects for the wide spectrum of media.
2018
- OCD is in post production editing and animation for "
Macy's Goes to War.
"
2017
- OCD is in production with the short film, "
Macy's Goes to War
," the unknown tale of Macy's Department Store's contribution to America's war effort in 1942 told in the style of a black & white newsreel of the period.
Duncan and Andre produced antother
Boston 7
Day
PSA
competition event for Flickers/RIIFF in association with WCVB-TV5 (ABC).
2016
- OCD came up with an idea for a new kind of Children's Film Festival and subsequently took it to
FLICKERS & RIIFF
. In 2017, the
Children's Hospitals International Film Festival
(
C.H.I.F.F.
) premiered at
Boston Children's Hospital
in April 2017 and is expanding to even more hospitals to bring an annual program of wonderful short films for children to an audience that really needs them, the young patients facing overwhelming health challenges.
2012/13
- OCD produced the short film / TV pilot
HALF PINT
. The film tells the the story of a young boy with no interest in learning about history who suddenly finds himself transported back to Normandy in the early morning hours of the 6th of June 1944. Co-produced by
Andre Stark
& Duncan Putney, written & directed by Duncan Putney, with
Tony Bennis
as director of photography & editor. (Winner Van Gough Award: Best Screenplay Short Film at the 2014 Amsterdam Film Festival, selected film for the red carpet opening night at the 2017 Normadie World War II Film Festival)
2014
- OCD created another PSA campaign concept, "
And Then...
," for
FLICKERS
for the 2015 Rhode Island International Film Festival.
2011 - OCD created and set up the Spotlight on Rhode Island Screenwriting Competition for the Rhode Island State Office of Film & Television and FLICKERS for screenplays set in Rhode Island
where the state is truly a character in the script.
2009
- OCD created the national
7
DAY
PSA
filmmaker competition that to date has received four New England Emmy Award nominations and one Emmy statue while creating broadcast quality television public service announcements for many deserving non-profit organizations and getting them on the air for an entire year in prime time through sponsorship commitments from local television stations.
2008 to 2014 - OCD has created and developed the concepts and written the copy for several
public service campaigns for the Academy Award qualifying
Rhode Island International Film Festival
. These Emmy Winning spots include "
Canisters
," "
RIIFF Around the World
," and "
And Then..
."
In Development:
THE HALF PINT PROJECT SERIES
- a television series based on the premise of our award winning short film/pilot that has had screenings at museums across the US and in Normandy, France.
BAREHANDED CHAMPIONS - A documentary that tells the story of the 1884 Providence Grays of the National Baseball League, the first real World Series Winning team, when professional baseball was played without gloves.
THE GREAT AMERICAN CHILDREN'S BOOK CHALLENGE - a reality based competition television show
THE UNTITLED DESIGN SHOW - a unique home design television show
---